Now then, before you all think I'm a shopaholic or big spender, let me just let you know that I don't go shopping very often, I spend alot of time browsing online and window shopping but rarely actually buy anything. Today however was a different case. I wanted a new outfit to wear for my hen do meal out on Saturday and had a little list of things I wanted. I was lucky enough to get some money off my granparents as a wedding present so decided to have a nice day out with a good friend and buy what I wanted! So thought I would share!
My most exciting purchase, was this wonderful dress from the Fusion collection at Monsoon, I wouldn't normally have thought to try it on, but it was the last one and was in my size so thought I would give it a shot! It's not as fitted on me as it appears on the photo, but I just love it! Thought it would look awesome dressed down with some silver Converse when I invest in some!
However, for the special occassion we found some bargainous shoes in Kurt Geiger, reduced from £90 to only £19! And again they only had my size left! They are the Carvela shoes in my previous post, but in metallic silver. I can't find a picture online. They will look awesome.
To go with this look, I finally treated myself to a Lime Crime lipstick from SpaceNK, which I've had my eye on for quite some time! Check out their website and Doe Deere's blog, it's all amazing! http://www.limecrimemakeup.com/Â I got the lipstick in Centrefuschia, it's really long lasting and a lovely vibrant, solid colour. Very good quality, plus the packaging is purple with silver holographic unicorns on it!!
I'm teaming that lipstick with good old Barry M nail polish in Shocking Pink and a mixture of metallic silver and blue liquid eyeliner, also from Barry M.
On a more practical note, I finally bought the Floozie by Frost French pyjamas I was after, from Debenhams, it took me a while to choose which version, but in the end I opted for the nightie, although I might go back for the cute gingham playsuit as well!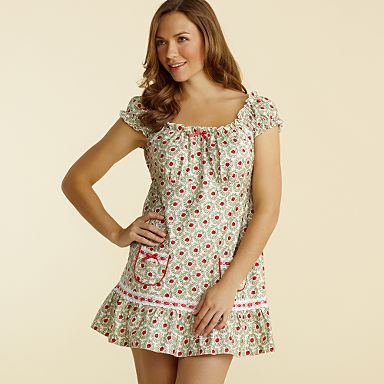 I also bought some Paperchase scrap books, one for me for my Honeymoon mementos and also one for a gift. The one I got is the awesome Kawaii sushi print they have in at the moment. Worth a look, they have cute bento boxes and bags too. The last thing I bought was a lovely navy and white striped jersey skater dress from Warehouse, I've wanted a jersey dress for a while but found the t-shirt styles too clingy, this one has an a-line skirt so much more sensible.
I am a very happy girl today and now going to settled down to watch Season 5 of House on DVD.
Co-Creator @wearefoodscouts & @KitschInc. Digital Marketing & Creative Direction. Illustration, writing, creativity & style. Fan of films, TV, cartoons, colourful hair & clean beauty. Blogger since 2009.